Dee and Greg Linton, was our first guests, so nice and so warm people in our brand new apartment "Les Loges".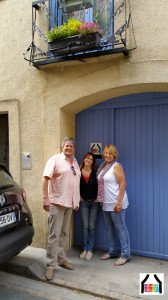 We wanted to make Les Loges, this duplex apartment in Pezenas, to share the simple pleasures offered Pézenas and Languedoc. And after the merest chance, our first guests were an Australian couple connoisseurs and lovers of France and its gastronomy organizers themselves near Adelaide gastronomic stays in the vineyards.
A first step so successful with a stay of five days filled with discovery and pleasure of the senses, including the terroir of Pézenas with a morning in the estate vineyards Allegria in Caux, on the slopes of an ancient volcano, to taste wine facing the vineyard, followed by a gourmet lunch at the restaurant Côté Mas in Montagnac and a visit to the Abbey of Valmagne and its famous wrath shelter in the church. So amazing and exciting for our guests.
To kno more : Wine Diva Tour & Domaine Allegria
If you want to book for your next stay in Pézenas and enjoy our way of life in the real south of France, see our page about Les Loges.